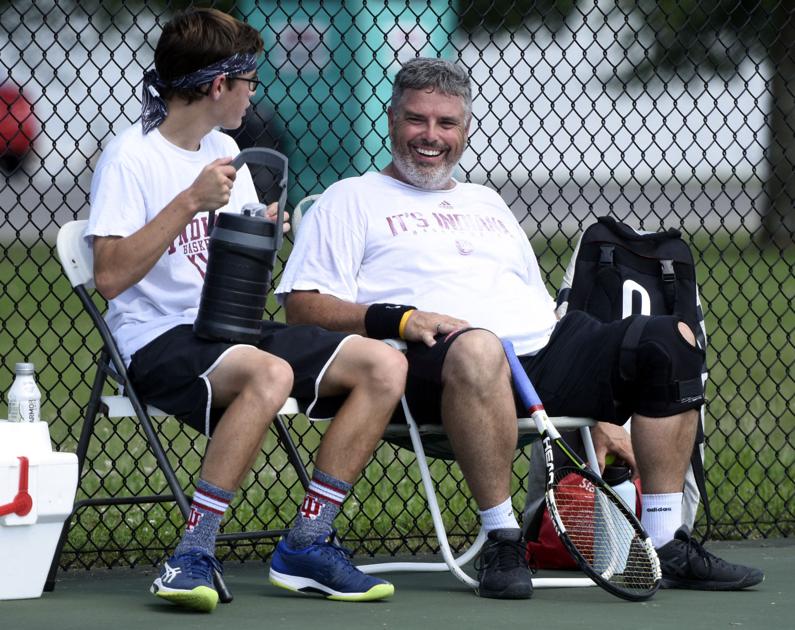 It's not like Stuart and Camden Jones were tired of looking at each other.
The father and son combo are partners in the Men's B Doubles portion of the 15th-annual State Farm E'town Tennis Open.
"It's funny that we're playing together because I think we're kind of sick of each other," father Stuart said. "We had the pickle ball court going in the driveway all during quarantine. We're glad to be able to hit a ball with strings and all that kind of stuff. It's great to get out and compete, but it's really nice just — given what the last three months have been — to be able to be around other people."
Camden missed his junior tennis season with Central Hardin because of the pandemic. He and partner Calden Doty were not able to have the opportunity to defend with 5th Region Tournament doubles championship.
"It was really, really tough for me, especially because — I wasn't a senior, but a lot of my friends on the team were seniors," he said. "I was feeling for them and it was just a really hard time. I think with the team we've all kind of tried our best to get through it together. We've been doing some fun stuff … and every once in a while we'll try to get two or three of us to come out and play together.
"It was really tough, but I am definitely glad that I have another year to go."
For Stuart, senior minister at First Christian Church, missing tennis season wasn't only about missing Cam play.
"For (wife) Stacia and I, the tennis season was the thing we missed the most during quarantine," he said. "It was the absolute worst part of it. We didn't get to experience that. We love our team. We love the community that's here, and tennis community in E'town, John, North, Central and everyone else."
"We missed all that," Stuart said. "That was the biggest miss for us. I know other people missed other things, but for us that was the big miss. We're happy to see everybody again."
Jones and Jones — who donned their identical Indiana Hoosiers men's basketball T-shirts — although one a little more faded than the other — defeated Thomas Hardy and Juan Harraway of Louisville, 6-3, 6-4 Saturday to reach today's semifinals.
"My regular 18-and-under doubles partner was only going to play in one event," Cam said. "I kinda figured I was going to play with dad, but I did keep asking around just in case. Everyone seemed to be on vacation, so …"
"So, here he is, stuck with old man," Stuart said. "Which means he's running a lot more. My game plan is really that I serve and then I stand. I'll go chase down anything he can't get to. For the most part, I look for him to finish off a point. That's how father-son tennis should be for sure."
This is their second venture together in a tournament.
"We did this one other time, down in a tournament in Bowling Green and he was kinda just starting, but had gotten pretty good and I hadn't recognized that so I put us in the C range because I thought, 'We're not really good,'" Stuart said of three years ago. "It wasn't very fair because he was all over the place, which is what I need him to be now because it's 95 degrees outside.
"We play men's doubles out here on Thursday. It doesn't happen very often, but every once in a while we get to where we can play together."
Stuart, who played high school tennis and "a little in college" has been out of the game.
"I quit forever. I didn't think I'd every be back on a tennis court again," he said. "After about a 23-year hiatus, Cam first and (daughter) Emery started getting into tennis and so here I am back at it."
And pretty much loving every second of it.
"There's this shot that dad's got where he takes it with a slice up at his head and just screams it down the line and I learned that from him," Camden said. "My wide forehand serve — there's a bunch of shots I've learned from him."
Stuart jumped in, "Cam hits the ball a lot harder than I can hit it anymore. Once upon a time — I look at that and think, 'I used to be able to do that, but I can't anymore.' My role now is to try and calm him down, which is not good because I'm a bit boisterous myself."
Watch a match and you'll more than likely hear, 'Come on Stuart" a time or 12.
"I try to stay as calm for him as I can," he said.
Camden added, "I let him go because I'll go, 'Come on Cam' a lot, too."
Start chimed in, "It's catching on. His isn't quite as loud yet, but it'll get there."