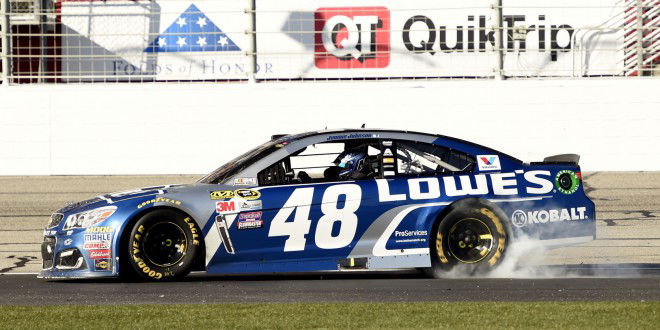 At 44-years of age, Jimmie Johnson is practically a veteran in NASCAR circles. Since the 2020 season is his final year before he retires, NASCAR decided to pay a small tribute to the 7-time world champion. On Twitter, it posted a picture of Johnson in his high school days, comparing him to how he looks now.
Johnson is the oldest of three children and kicked off his racing career at the age of four. Initially, he started off on motorcycles before moving on to truck racing and off-road racing. Finally, he went on to the stock car arena and has never looked back since, winning 7 NASCAR Cups.
High school vs. Now pic.twitter.com/AAAizTYJV8

— NASCAR (@NASCAR) June 30, 2020
Where did Jimmie Johnson attend high school?
Johnson went to the Granite Hills High School in California and eventually graduated from there. Since then, Johnson has led a hugely successful career as a NASCAR driver and well on his way to achieving legendary status. Just recently, the Mattioli Foundation and Pocono Raceway jointly announced the Jimmie Johnson Legacy Scholarship. This applied primarily for students at Monroe Career and Technical Institute.
Naturally, he was truly grateful to the Mattioli Foundation and the Pocono Raceway for the honor. In other words, Jimmie Johnson wants to inspire young technical students to follow their dreams. Who knows, maybe one day some of those students could end up in the field of professional racing.
Johnson is currently competing in his final NASCAR season before he retires. However, this may not be the last time anyone sees him in a racing car. Recently, he expressed an interest in racing in IndyCar and is set to test for the Chip Ganassi team at the Indianapolis Motor Speedway. Initially, he was expected to test for the Arrow McLaren SP team in April, until the coronavirus pandemic struck. Whatever the case, very few people can hope to match the success that Johnson achieved.