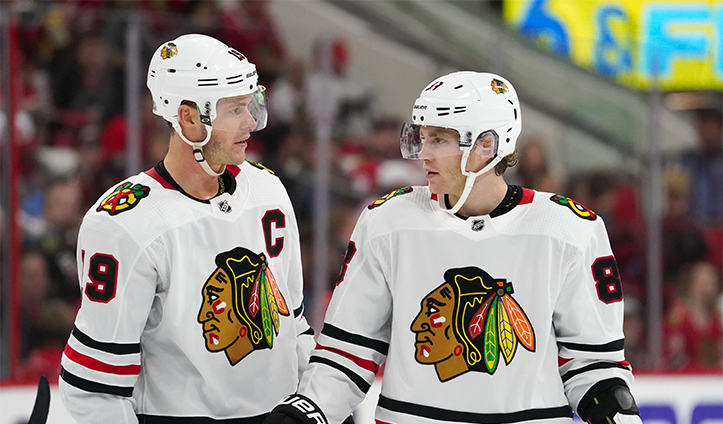 The Blackhawks are technically underdogs against the Oilers in the play-in round when the NHL returns to play, but two NHL Network analysts are picking Chicago over Edmonton anyways.
.@mike_p_johnson and @Rupper17 are taking the @NHLBlackhawks in this series. Are you? #NHLTonight pic.twitter.com/8vUVUKOTS2

— NHL Network (@NHLNetwork) June 29, 2020
Mike Johnson and Mike Rupp explained on NHL Tonight why they're taking the 12 seed to upset the 5 seed.
"They have the high end stars," said Johnson.  "Kane, Toews and others. They have the goaltender in Corey Crawford, who when he's on his game, he can steal a game, steal a series."
Click to download the MyTeams App for the latest Blackhawks news and analysis.
Johnson continued by saying Edmonton can be overly-dependent on their special teams play.
"The Edmonton Oilers were so reliant on their power play and penalty kill. If that goes cold, 5-on-5 hockey– which playoff hockey involves more of– doesn't favor them to the same degree."
Rupp on the other hand values the Blackhawks' playoff experience in this unprecedented format.
"Just look at the circumstances that we're under right now," Rupp said. "This is very foreign, it's a unique situation. I want guys who have gone through some unique situations… That's no knock to the Edmonton Oilers, they just haven't been through a grind of any sort like this in the playoffs in general."
RELATED: 15 NHL players test positive for COVID-19 per league update
SUBSCRIBE TO THE HAWKS TALK PODCAST FOR FREE.
NHL Tonight analysts choose Blackhawks over Oilers in NHL play-in round originally appeared on NBC Sports Chicago