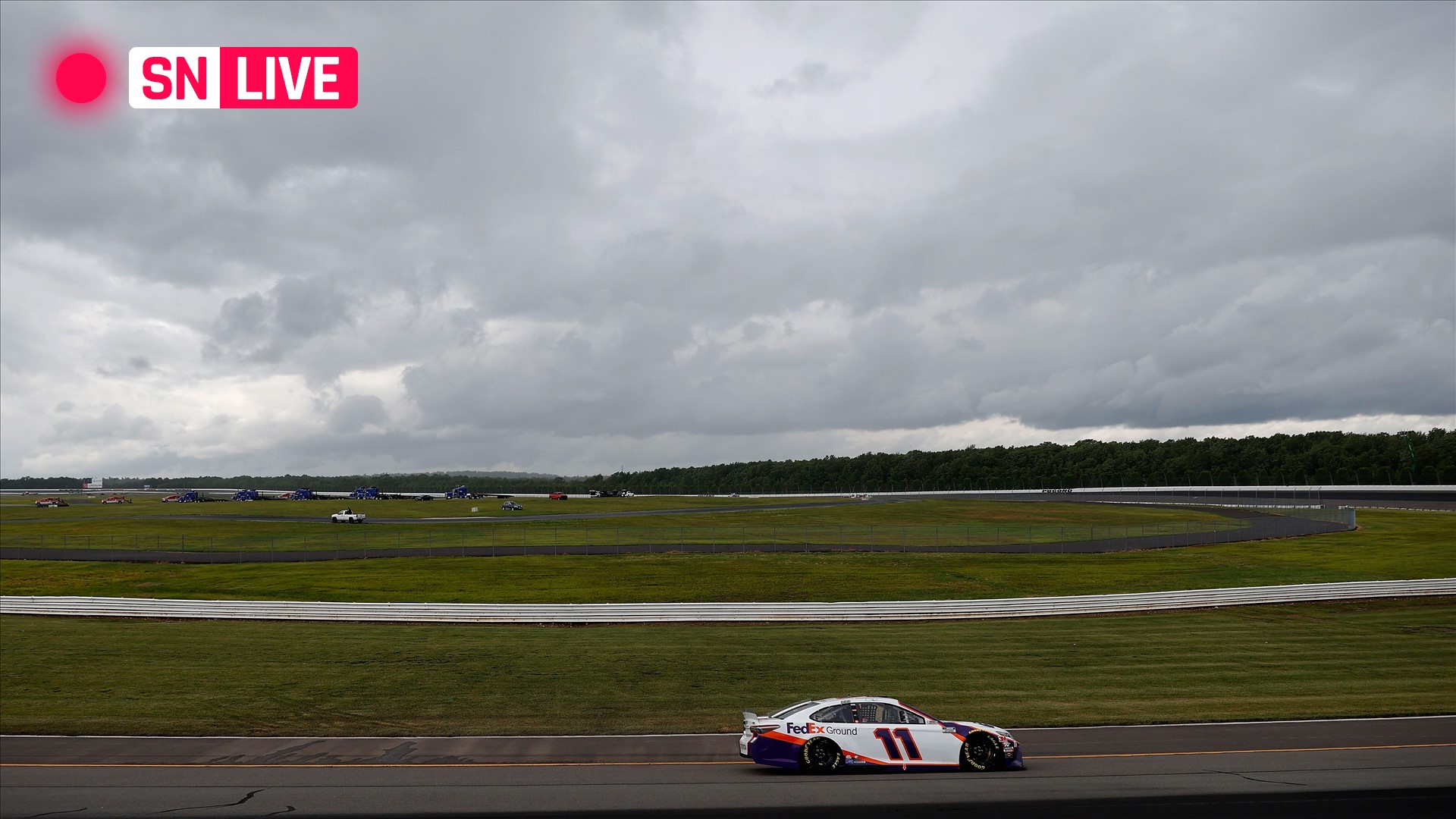 NASCAR finds itself in an unfamiliar position entering the Pocono 350 on Sunday.
A sport that for most of its history had held out as a symbol of good old boy Southernism in an increasingly progressive climate has in recent months taken a strong stand against racism. A recent FBI-investigated incident involving a noose in the garage stall of Black driver Bubba Wallace, and the unified response to it from NASCAR, made national news. So too did NASCAR's ban of the Confederate flag at all events.
The rise of the NASCAR Cup Series profile will serve as a much-discussed backdrop to the midseason race at Pocono Raceway.
Sporting News is tracking live race updates and lap-by-lap highlights from Sunday's NASCAR race at Pocono. Follow below for complete results from the Pocono 350.
MORE: Watch today's NASCAR race live with fuboTV (7-day free trial)
NASCAR at Pocono live race updates, highlights
7:17 p.m.: Kyle Busch passes Blaney at the front of the pack with 27 of 55 Stage 2 laps complete.
7:09 p.m.: This could be a losing battle for NASCAR.
Sunset is 8:38. Depending on cloud cover, typically can run about 5-15 minutes after sunset before it is too race. That is 90-105 minutes and 92 laps to go and they do laps of 53 seconds under green.

— Bob Pockrass (@bobpockrass) June 28, 2020
7:02 p.m.: Just after the green flag comes out, there's another crash and another caution. This time Chris Buescher crashes.
6:50 p.m.: Caution for Bell spinning into the wall.
Two of yesterday's top-10 finishers (Bell and McDowell) have already crashed out of the race and will finish 39th and 40th.

— Jeff Gluck (@jeff_gluck) June 28, 2020
6:48 p.m.: Ryan Blaney moves into the lead.
6:36 p.m.: Kurt Busch wins Stage 1. He's followed by Ryan Blaney and Christopher Bell.
Kurt Busch wins the opening stage. KuBusch Blaney Bell Harvick Keselowski

— Bob Pockrass (@bobpockrass) June 28, 2020
First stage win of the season for Kurt Busch | #NASCAR

— Kelly Crandall (@KellyCrandall) June 28, 2020
6:31 p.m.: Kurt Busch leads with five laps remaining in a discombobulated Stage 1.
6:25 p.m.: Back to green.
6:19 p.m.: Caution. Quick crash involving Michael McDowell.
Michael McDowell blames Chase Elliott for that wreck. He's told: "Remember that. He's got a lot more to lose than we do."

— Jordan Bianchi (@Jordan_Bianchi) June 28, 2020
6:15 p.m.: OK, finally a green flag. Let's hope it lasts.
6:08 p.m.: This is the worst.
Light rain continuing. Still no change to track surface. Restart waved off.

— Jayski.com (@jayski) June 28, 2020
6:01 p.m.: For the third time this afternoon, engines are fired.
5:52 p.m.: Looks like NASCAR is going to give this another try.
NASCAR wants drivers to return to their cars now, although that doesn't mean the race is about to resume. Still drying to do.

— Jeff Gluck (@jeff_gluck) June 28, 2020
5:30 p.m.: Uh oh.
Not sure if TV has showed outside of Turn 3 at all, but it don't look good. #NASCAR

— Dustin Albino (@DustinAlbino) June 28, 2020
5:05 p.m.: After just three laps, the caution flag is out for rain. Red follows soon after. Kurt Busch held the early lead before action was halted.
NASCAR calling for the red flag. Another rain delay. I should probably just retweet another weather tweet from this season at this point.

— Jeff Gluck (@jeff_gluck) June 28, 2020
15 races into the NASCAR Cup Series season:

9 have had weather delays

3 have been postponed a full day

— Eric Estepp (@EricEstepp17) June 28, 2020
5:01 p.m.: Green flag is out! But rain in the area means we might have another stoppage soon.
4:52 p.m.: The latest on the weather.
Drivers are getting back into their cars at Pocono as NASCAR has received the all-clear on lightning | #NASCAR

— Kelly Crandall (@KellyCrandall) June 28, 2020
4:20 p.m.: Lightning strikes in the distance and we have a 30 minute delay (at least).
Lightning strike in the vicinity. Lightning delay.

— Jeff Gluck (@jeff_gluck) June 28, 2020
4:15 p.m.: Engines fired.
4:13 p.m.: Here's the instrumental national anthem.
4 p.m.: TV coverage ahead of the race starts now. The race itself should be here soon.
About 5 minutes until pre-race ceremonies scheduled to start.

— Jayski.com (@jayski) June 28, 2020
3:41 p.m.: Hopefully there won't be any interruptions this afternoon. We're about 20 minutes away from the start of intro proceedings.
What time does the NASCAR race start today?
The green flag for Sunday's NASCAR Cup Series race at Pocono will wave shortly after 4 p.m. ET, about 30 minutes later than the start time for Saturday's first leg of the doubleheader.
While the dates for both Pocono races in the Saturday-Sunday doubleheader remain unchanged from NASCAR's original 2020 schedule despite the coronavirus shake-up, the start times are a little later. The pair of races originally were scheduled to start at 3 p.m. ET and 3:30 p.m. ET, respectively, rather than 3:30 p.m. ET and 4 p.m. ET.
Those later start times are notable, because Pocono Raceway does not have lights in the event Sunday's race is delayed by weather.
NASCAR starting lineup at Pocono
Below is the starting lineup for Sunday's race at Pocono based on Saturday's results:
| | |
| --- | --- |
| Pos. | Driver |
| 1. | Ryan Preece |
| 2. | Austin Dillon |
| 3. | Kurt Busch |
| 4. | Ricky Stenhouse Jr. |
| 5. | Cole Custer |
| 6. | Ryan Newman |
| 7. | William Byron |
| 8. | Matt DiBenedetto |
| 9. | Ryan Blaney |
| 10. | Matt Kenseth |
| 11. | Chris Buescher |
| 12. | Brad Keselowski |
| 13. | Michael McDowell |
| 14. | Clint Bowyer |
| 15. | Martin Truex Jr. |
| 16. | Kyle Busch |
| 17. | Christopher Bell |
| 18. | Aric Almirola |
| 19. | Denny Hamlin |
| 20. | Kevin Harvick |
| 21. | Jimmie Johnson |
| 22. | Bubba Wallace |
| 23. | Corey LaJoie |
| 24. | John Hunter Nemechek |
| 25. | Chase Elliott |
| 26. | Ty Dillon |
| 27. | Alex Bowman |
| 28. | Daniel Suarez |
| 29. | Brennan Poole |
| 30. | Tyler Reddick |
| 31. | JJ Yeley |
| 32. | Josh Bilicki |
| 33. | Garrett Smithley |
| 34. | James Davison |
| 35. | Timmy Hill |
| 36. | Joey Logano |
| 37. | Joey Gase |
| 38. | Erik Jones |
| 39. | BJ McLeod |
| 40. | Quin Houff |