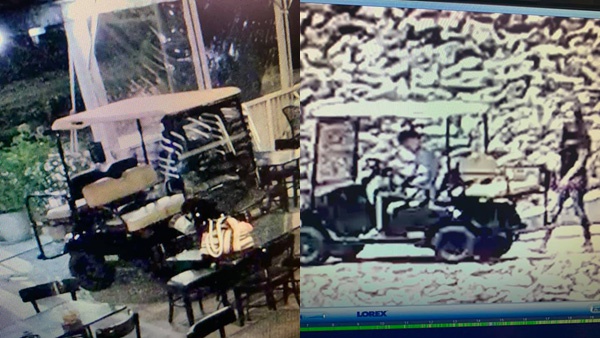 Please contact the owners of RiverWatch for any information on this incident.
Photo by RiverWatch.
(Lawrenceburg, Ind.) – A golf cart that helps customers to and from the popular riverfront restaurant has gone missing. 
RiverWatch posted a Facebook post earlier today in hopes to find the two individuals that were seen taking the vehicle around 2:30 p.m. Sunday afternoon. 
Security footage identified one boy and one girl as the suspects. 
If you have any information on the stolen Black 2020 EZ GO cart with a tan top and tan seats, please reach out to the owners at (812) 539-3625. 
To all our guest… we've purchased a Golf Cart to transport you to and from the restaurant…. unfortunately 2 younger…

Posted by RiverWatch on Monday, June 29, 2020