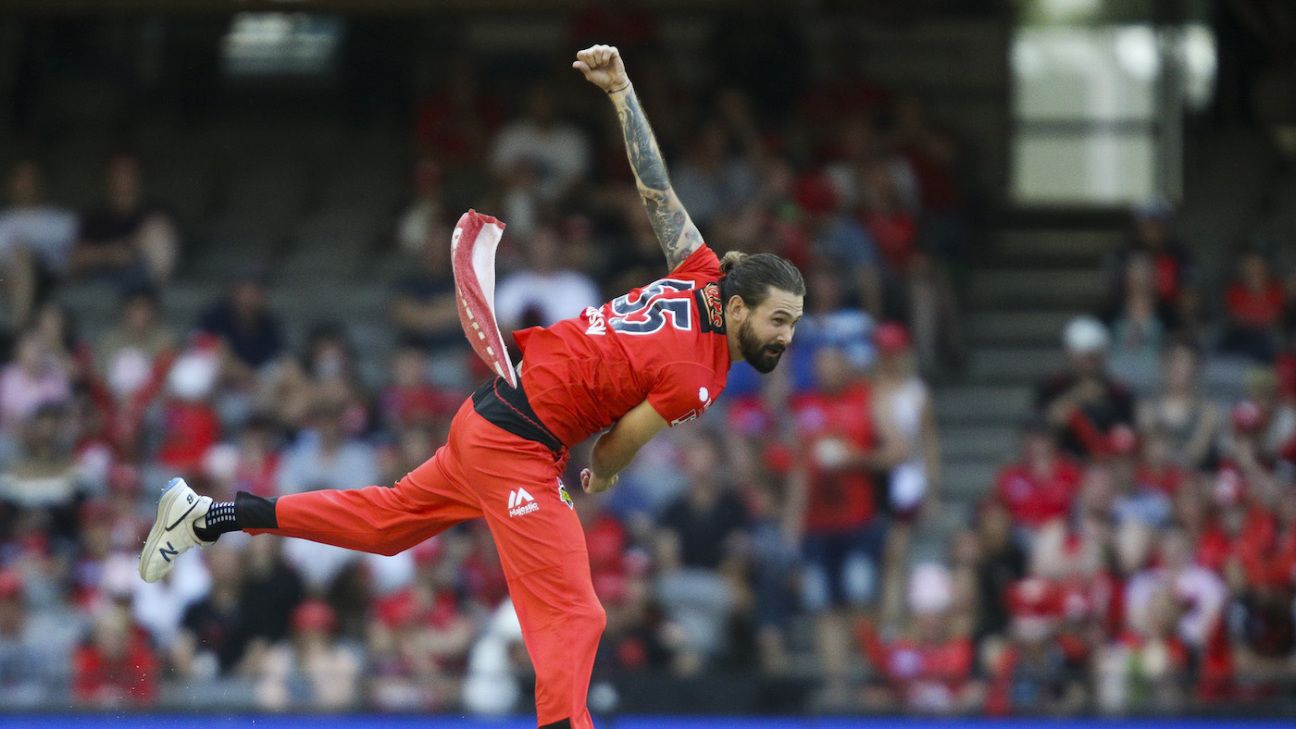 Kane Richardson believes on-field innovations for the Big Bash are worth discussing but ultimately the tournament will be judged on the quality of the cricket.
Since the tournament expanded two seasons ago there has been a debate about whether it has diluted the league with a slip in average attendance and viewing figures. With the competition set to retain its expanded 61-game format, which is locked in as part of the broadcast deal, any changes will be seen in the middle with a range of tweaks being considered ranging from bonus points to free hits for wides.
Richardson was not particularly enthused by the idea of being penalised further for letting go a wide, but sees the value in looking at bringing new elements to the game if it adds to the experience for fans on TV and in the ground. However, fundamentally, high-quality cricket played on good pitches with the bat dominating is what will get people coming back or tuning in again.
"I think with all the innovations, it's a good discussion to have but in the end the best selling point will be the standard of cricket," he said. "When people turn on the TV at night or come to the ground they want to see high-scoring games, full of skill, albeit knowing as a bowler that means better pitches, faster outfields, even smaller boundaries. I think we are all used to it, been that way for a while now.
"The quality of pitches is something that's maybe lacked in the last couple of years and they started to get that right last year. As long as the skill and the runs are there then think anyone will be happy.
"I saw a few things had been mentioned. Bonus points, that would be great, think it would make the ladder more interesting towards the backend of the tournament. Think I saw free hits if you bowl a wide, which I'm obviously not that keen on because we get that wrong occasionally so don't think we should be punished that harsh. It's a good conversation to have to make the BBL the best product we can, so I'll be keen to see what they can come up with so long as it's not something that's just punishing the bowlers."
The T20 format is the priority for Richardson at this stage of his career, although he is also part of Australia's ODI set-up and is still keen to play first-class cricket whenever possible for South Australia having made just two outings in the last two seasons. He is one of the players who would likely miss a chunk of the Australian domestic season if the T20 World Cup was postponed due to Covid-19 and replaced by the IPL later this year.
"From my point of view, what's going to be the best competition to play in? It's going to be the IPL behind the World Cup," he said. "If it clashes with the start of the domestic summer then that's up for debate and above us players on what decision will be made. I've read a lot of commentary around a lot of past players saying that maybe it's better if we stay back here and play in Australia. So there's probably no wrong answer as long as we're playing cricket, everyone is keen on doing that right now."
Whether this year's T20 World Cup takes place as planned or not, Richardson has made himself a regular part of Australia's side having played nine matches in a row against Sri Lanka, Pakistan and South Africa as the team notched seven wins and just one defeat in those series.
"You feel more comfortable and confident the more you play and the more success you can have but I'm probably at an age now where I understand my game and understand my body. When I was in my early 20s, I was trying to bowl a 145kph and not want to bowl a slower ball because I thought that was a weaker option. You want to be the firebrand who swings them around and bowls really fast.
"But I think I've learnt in the last couple of years that there's a role in most T20 teams where you can be adaptable in terms of your variations, what's going to be successful on any certain day, on any certain surface. It's just something I've got better at and I've learnt a couple of different slower balls from a couple of different guys over the years. But still got a lot of improvement in myself and hopefully I can keep getting better."