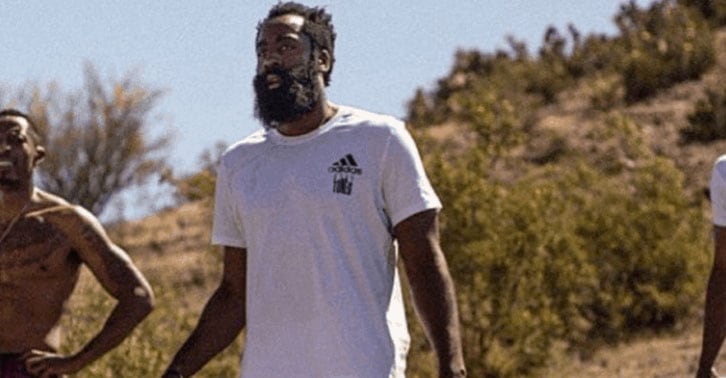 The coronavirus has certainly made a thundering impact on how the world functions. The field of sport has come to a standstill ever since the virus spread to almost every nook and corner of the world. The NBA called a halt to all its activities on March 11 when Utah Jazz center Rudy Gobert tested positive. 
As there has not been any competitive action since the suspension, players have a lot of time on their hands to get fit and return with maximum strength. For injured players, this unusual offseason serves as a time to recuperate without having any extra pressure to return as soon as possible. 
NBA players put in the extra work during the hiatus
For certain players, this is the right time to get even fitter. The league only resumes on July 31, and there is more than a month and a half till we reach that phase. To cement a strong position in the playoffs, players need to be at the top of their game. For that, an athlete's conditioning is extremely important.
Some players tend to go all-out when it comes to shaping up their bodies. Their dedication can be scary, looking at the amount of workouts they do on a daily basis. Here are a few NBA stars who look a bit different from before the regular-season was called to a halt. 
Russell Westbrook
There is no doubt that the 2017 MVP is a tremendous athlete. Westbrook is one of the main stars of the NBA over the past few years. He joined the Rockets this season and has performed extremely well alongside James Harden. 
Last month, Westbrook's workouts were publicly available for viewing. His trainer Ron Boss Everline shared a series of posts on Instagram where we can see Westbrook training with actor/comedian Kevin Hart. 
Looking at the intensity of the workout's reflect Westbrook's determination to get stronger. The nine-time All-Star was training in the sand in his workout routine. One can certainly spot the added muscle in Westbrook's body due to the intensified workouts during the self-quarantine period. 
James Harden
Following Russell Westbrook, we look into the workout routine of his teammate, James Harden. During the offseason, Harden has kept himself extremely busy, with his grueling workouts. Speaking to The Athletic in May, the two-time scoring champion mentioned his preferred workouts during the quarantine period. 
"I've been doing a lot of cardio," Harden said. "I've got treadmills in my houses, weights, and all that good stuff. It really hasn't affected me like it's affected a lot of other players." Harden also mentioned that he works out two to three times a day which visibly trimmed down his physique. 
It looks like James Harden has lost some serious lbs pic.twitter.com/bJLd53lk1P

— Hoop Central (@TheHoopCentral) May 23, 2020
Fans have been buzzing over a photo of James Harden in which the two-time NBA scoring champion looks like he has lost a lot of weight. 
Nikola Jokic
Nikola Jokic is probably the main player who has undergone a severe physical transformation during the NBA's hiatus. The Denver Nuggets big man has been performing extremely well for the past two seasons and has been selected as an All-Star too.
Jokic who weighed 284 lbs at the start of the season, has reduced the number drastically. The Serbian wasted no time in getting his body into shape, but with the recent pictures, it seems he has reduced too much of his weight. 
The Nuggets' GM also made a comment on Jokic's weight when he appeared on ESPN. "He sent me a picture. No shirt on. He's got abs. I've never seen him have abs before." The 'Joker' is said to have lost about 25-30 pounds which is a shocking number. Fans on twitter can' t stop from reacting to Jokic's incredible weight loss. 
👀 JOKIC! pic.twitter.com/NNsyW4HHRE

— Ballislife.com (@Ballislife) June 11, 2020
LeBron James
King James is never the one to back down from challenges. The four-time MVP has been meticulously taking care of his body during the self-quarantine period. Apart from posting Taco Tuesday and family Tik Tok videos, the Lakers star enlightens fans on how to keep yourself fit when at home. 
The King engages in intense cardio workouts, core-strengthing exercises and it doesn't stop there. LeBron James is tweaking every muscle of his lower and upper body with his workout routine. From basic push-ups to backward flies, James is doing everything he can to improve his fitness. His goal is to come out better than ever and win the title for the city of Los Angeles. 
Luka Doncic 
The former NBA Rookie of the Year makes this list as he has been reported to not being in good shape during the lockdown. Luka Doncic is in his hometown and had been training individually for a brief period of time. 
The 21-year-old wonder kid's trainer admitted to him being out of shape, but mentioned he will be back just in time when the season resumes. "He is not in the best shape, which is normal. NBA games will not be played before the end of July, so there is enough time to help him recover and get ready." The Dallas Mavericks have a playoff spot in their hands. Luka should be looking to get back to proper fitness if he wants to perform at the highest level. 
Marc Gasol
The Toronto Raptors big man has reportedly lost weight and has become skinny. Raptors coach Nick Nurse himself addressed the matter and mentioned that it is indeed true. The 2019 NBA champion has brought down his weight to be quicker and more agile in his position. "It is good. I mean, I've seen Marc myself many times on some Zoom calls and most of all just his face in there," Nick Nurse said. "So I thought it probably reduced a little."
Skinny Kyle Lowry and Skinny Marc Gasol are going to repeat.#wethenorth @Raptors #NBA pic.twitter.com/hBzHflgnSF

— Fred Vanvleet's son (the chosen one) (@zx600) June 7, 2020
Raptors fans are already hyped up, unable to contain their excitement for the return of the NBA. Their team stands second in the Eastern Conference table and fans are already expecting a repeat of the previous season.