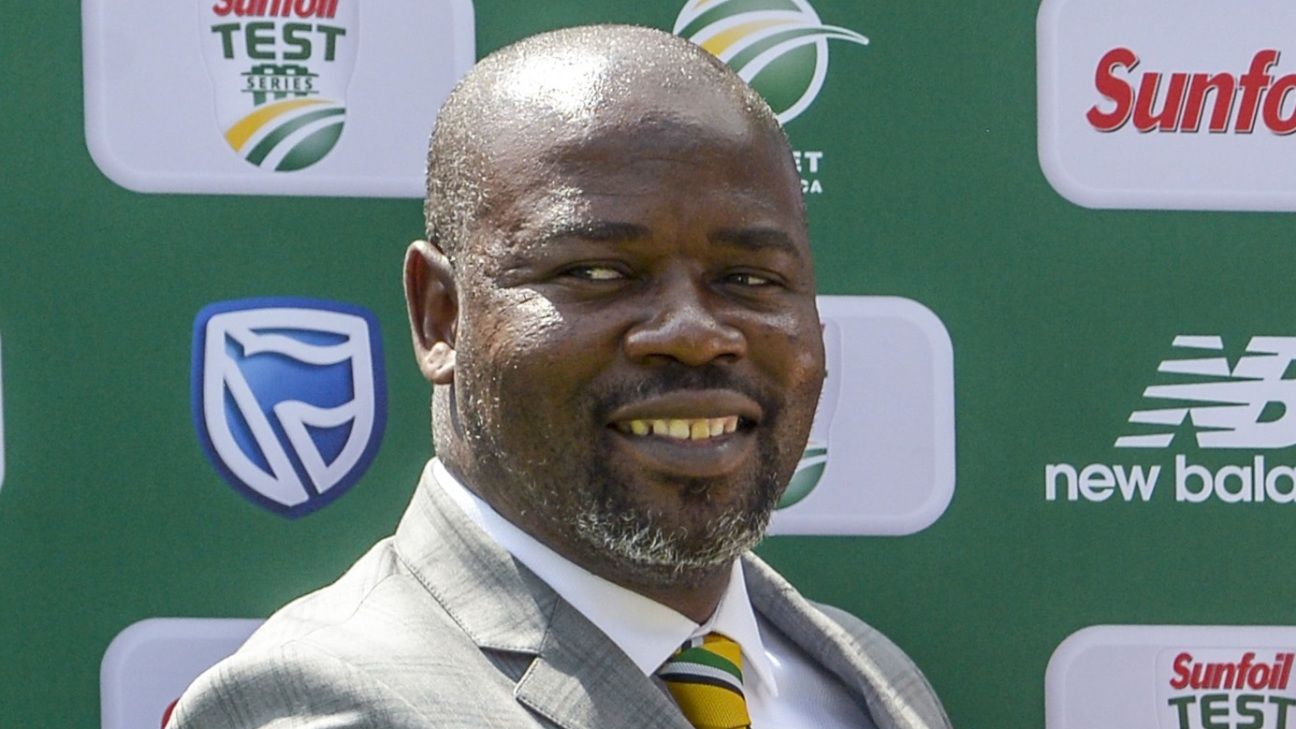 Cricket South Africa is expecting the first part of the forensic audit into its affairs by Friday, which may determine whether suspended CEO Thabang Moroe will face disciplinary charges over allegations of misconduct. CSA President Chris Nenzani confirmed that Moroe's suspension in December 2019 was directly linked to the audit and promised the organisation had made a "commitment" to providing more clarity in the coming weeks.
Moroe was the seventh member of staff to be put on paid leave during CSA's administrative unraveling late last year, and all the other cases have either been concluded or progressed significantly. Of those, four members of staff have been dismissed including Clive Eksteen, the former head of sales and sponsor relations, who announced earlier on Tuesday that he would take his case to the country's labour dispute resolution body, the Commission for Conciliation, Mediation and Arbitration (CCMA).
In a detailed statement, Eksteen claimed he had been charged on five counts and found guilty of one, which related to a sponsorship deal between a multinational company and CSA. He appealed the guilty verdict but lost, and on Saturday, CSA said he had been dismissed as a result of "transgressions of a serious nature." Eksteen denied that the charge he had been found guilty of was a serious one.
"One charge cannot properly be described as "transgressions", yet CSA chose to do so. The perception that has been created, and the perception, which is still prevalent, is that I was in some way involved in "suspicious" dealings, and therefore subject to an investigation along with other CSA Officials. Nothing could be further from the truth," his statement read.
While Nenzani conceded that Eksteen's statement was "to some extent factual", he would not go into details on it's "merits or demerits", because the matter is unresolved.
Similarly, Nenzani was scant on the details of Moroe's case save to say that CSA wants to ensure procedural correctness. He explained that when Moroe was suspended, initially by telephone call and then through a letter, it was made clear to Moroe that the finalisation of the audit would be used to gather information to formulate any charges against him. Nenzani indicated Moroe would have known that he was still suspended when Moroe unsuccessfully attempted to return to work last week. "His suspension letter is very clear that his suspension is linked to the finalisation of the forensic audit," Nenzani said.
The audit will also look into the decision-making of the board and Nenzani described the process of starting it as "very elaborate". As a result, the audit did not start until March, almost three months after Moroe was suspended. Nenzani acknowledged the frustrations that delay has caused among stakeholders including the South African Cricketers' Association (SACA), which accused the CSA board of deliberate delaying tactics in dealing with Moroe.
"I'm sure SACA would appreciate that you cannot be cavalier in how you address these matters because if you do so, and you rush things and you miss a few steps, you are exposing yourself to a challenge of procedural unfairness," Nenzani said. "The delay is not to the benefit of CSA, it's not to the benefit of our supporters and it is not to the benefit if the players that SACA represents. We are making a commitment that in the coming weeks, there is going to be a clear process going forward. We understand the unhappiness… but very few people would have wanted us to flout process."
To that end, Nenzani also provided an assurance that he would step down at the conclusion of his term in September. Nenzani is currently serving his second term, which was extended by a year in 2019, with the aim of stabilising CSA through difficult financial times. Reflecting on his seven years in office, Nenzani said there were three things he would have done differently beginning with looking at "transformation on a radical scale". CSA was sanctioned by the country's sports' ministry in 2016 for the slow pace of representational change but has since been praised for its progress.
Nenzani would also have wanted CSA to have acted differently in "the manner in which we engage and communicate." Though he did not elaborate, CSA's disputes with SACA over the years, including most recently over a proposed domestic restructure, is one example. Most tellingly, perhaps, Nenzani said that with hindsight, he should not have had an extra year added to his second term. "Looking back, I should not have agreed," he said. "It is because of how I view leadership. Election to a position is an obligation to serve the people who elect you and therefore when they said please continue, you subject yourself to that directive."
In the last year, CSA has dealt with numerous on and off-field issues including a disappointing World Cup campaign and the tumble of the Test team down the rankings, an administrative overhaul, the loss of major sponsor Standard Bank, and repeated calls for the board to step down. The board's AGM is set for September 5, when Nenzani and two other directors' terms end.