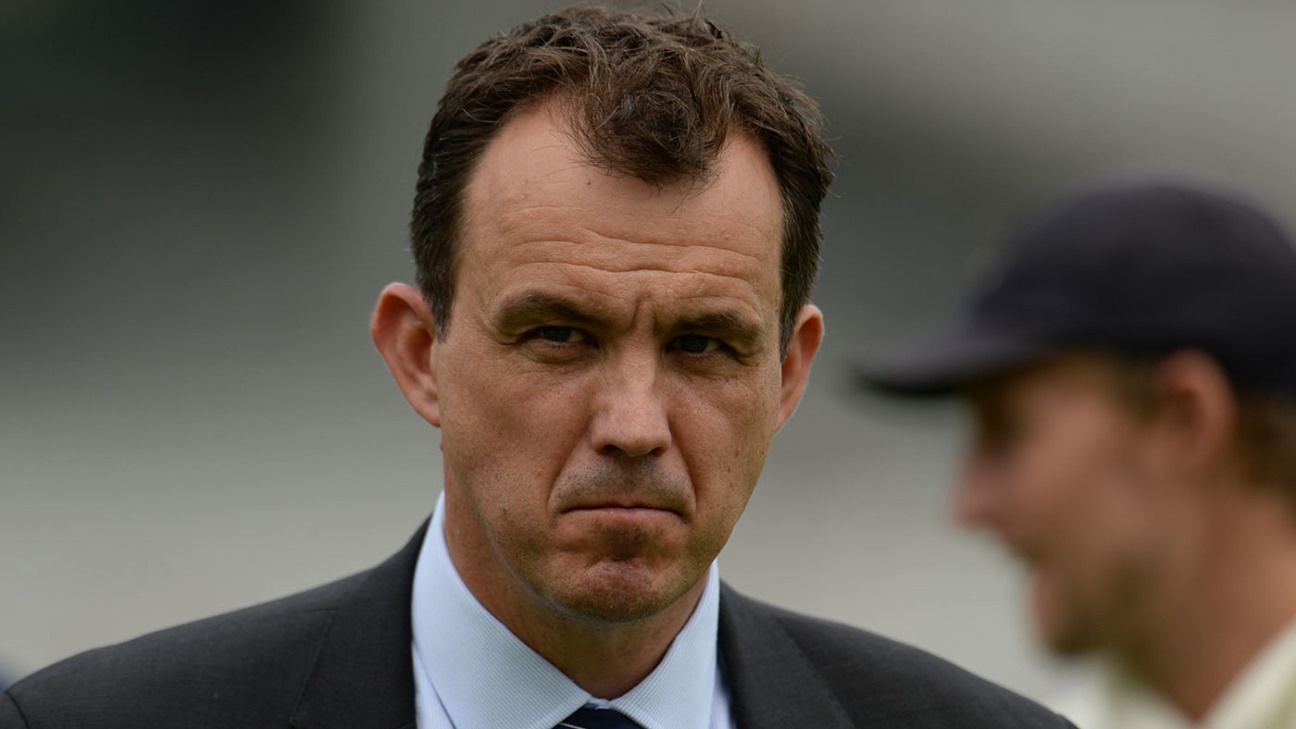 Tom Harrison, the ECB chief executive, has indicated that the World Test Championship may not prove fit for purpose in a post-Covid world, after warning that the sport needs to take stock of its priorities at international and domestic level to address the pandemic's long-term implications.
Speaking on the eve of West Indies' arrival in England for their rescheduled Test tour, Harrison warned that a second wave of Covid cases could lead to further disruption to the international schedule in 2021 and beyond, and called on the ICC – which is due to discuss international contingency plans at its latest board meeting on Wednesday – to work towards creating a better "narrative" for cricket fans around the world.
"Out of this we can develop an international and a domestic schedule which really appeals to people and they can really look forward to," Harrison told the BBC's Tuffers and Vaughan Show. "That's the challenge that, frankly, we probably wouldn't have had been able to address without Covid, but creating this kind of intervention enables us to take stock, and to think about what is really important in our game.
"Let's fix the Future Tours Programme. Let's create a narrative for fans that makes sense to people that underpins cricket's Test future. Let's get the World Cup qualifying sorted out, let's find a place for World T20 bilateral internationals and make them work for people. And then you start to piece together something that people can get genuinely excited about."
Harrison's comments come barely a year after the launch of the long-awaited World Test Championship, which was unveiled at the ICC's board meeting in June 2018 as part of the new FTP, which governs all major tournaments and bilateral engagements up until 2023. A one-day Super League, a two-year qualification tournament for the 2023 World Cup, had been due to get underway in May 2020, both of which had been intended to provide narrative and context to the international fixture list.
ALSO READ: Players find themselves in the middle of history – CWI chief
And while the ECB had been prime movers in the establishment of the WTC – the first final had been due to be held at Lord's in June 2021 – Harrison's comments suggest their stance has now moved closer to that of the BCCI, which suggested in April that the tournament should be deferred until a sense of normalcy returns to the world calendar.
In a separate interview with the BBC's Today programme, Ashley Giles, the England team director, said that the ECB should be "incredibly grateful" to West Indies for taking part in a tour that helps to fulfil the host board's contractual obligations to Sky Sports. However, Harrison warned that it would be difficult to expect similar commitments in bilateral series where there are fewer financial imperatives at stake.
"We need to play more meaningful cricket against countries that people want to see us play cricket against," he said. "We need to re-establish those Test series that are so important to fans in this country. And we need to be careful about the extent to which we're forcing countries where Test cricket is not supported to play as much as they do.
"These are issues that we can now tackle, knowing that we have the opportunity to do it for the first time in a very long time. All of these decisions can be the ones that the ICC help us, as international boards, take over the next few weeks and months."
The West Indies series will address a significant tranche of English cricket's losses this summer, which Harrison had estimated would be in the region of £380 million in the event of no cricket being played in 2020. But he warned that the board will still be dealing with the fall-out for several years to come.
"The reality is we're facing a very uphill challenge, not just in this country but I think globally," Harrison said. "Cricket's got to try and find a way to navigate through this Covid crisis.
"We are a sport that survives on media rights revenues. That doesn't just fund the game at international level, it funds it at all levels, right away through in the ECB's case to grassroots cricket, All Stars Cricket, club cricket. All of that is part-funded by what we're able to get from our media rights value.
"[The West Indies tour] helps us mitigate the impact of that, but I don't think there's a scenario that completely fills the hole of the crisis that we're facing," he added.
"The reality is most of our counties rely on match-day funding to help their businesses survive and grow. And so, the reality is we're looking at the most significant financial crisis in ECB history, and that is not an exaggeration. No question about that, we're going to be facing and dealing with this for a few years."