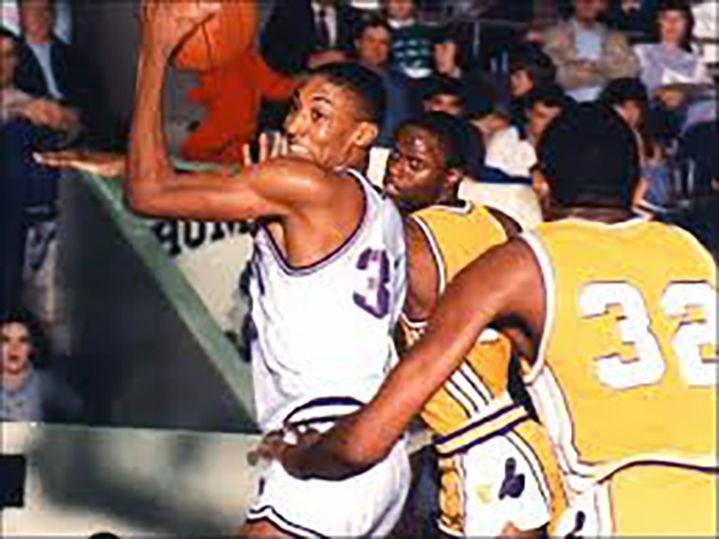 For a moment, my mind wandered to an otherwise forgettable day in Conway, Arkansas, on Jan. 3, 2009.
It was my first year as the TH's beat writer for the St. Bonaventure men's basketball team, and I was in town to cover the Bonnies' return game in a relatively random home-and-home series with Central Arkansas, a Southland Conference foe in just its third year at the Division I level.
As a Chicago Bulls fan growing up in the 90s, I'd known going in that this, interestingly, was where Hall of Famer Scottie Pippen had played collegiately, when it was still an NAIA program. And if I hadn't, I'd have quickly realized it by the banners in each of the Farris Center's four corners that displayed his name.
After writing about the game, a 68-58 Bona victory, I was given a ride back to my hotel by UCA official Steve East, who overlapped with Pippen for two years as a student at Central Arkansas and covered him just out of school for the Arkansas Democrat-Gazette in Little Rock before returning to his alma mater.
East, I remember, had begun to tell me the story of how Pippen managed to vault from this small NAIA school in the southeast to basketball stardom with the Bulls. It only recently occurred to me, however (after watching Episode 2 of the "Last Dance" documentary, which centers on Pippen), that I never got the full tale.
And so, over 11 years later, I reached back out to East to do just that.
EAST REMAINS in his position, now in his 27th year as UCA's associate AD for media relations. In the wake of the documentary, he's done numerous interviews on the subject and was even briefly featured in the series talking about the growth spurt that helped Pippen become a force.
He was happy to revisit the story that began on a short car ride back in 2009.
"I've told people it's the ultimate rags to riches story," East began. "There's so many of those in athletics, but I can't imagine there's any one bigger than his."
Pippen grew up as the 12th of 12 children in Hamburg, Arkansas, a delta town of 3,000 located in the state's southeast corner. Only one of his siblings before him had attended college. And, as only an average-at-best basketball player, Scottie wasn't going to be the next.
"And the story is, his high school coach had played for our coach (Don Dyer) when Dyer was at Henderson State, an NAIA school at the time in our conference," East recalled. "Then, Coach Dyer moved up here, and his coach went to Dyer and said, 'Can you bring him up there as a student-manager, something, just so he could go to college? Otherwise, he's going to be working in the field and the delta just like his brothers and sisters.'"
IN 2009, Pippen's name adorned just about every wall inside the Bears' 6,000-seat home venue. A year later, the program officially retired the same No. 33 that he famously wore with the Bulls.
In the fall of 1983, however, he was merely the student-manager of an NAIA school situated on the outskirts of Little Rock
Dyer agreed to bring Pippen on in that capacity before quickly putting him on scholarship, out of necessity, after the Bears lost a handful of players due to academics.
The new roster addition played sparingly as a freshman, averaging around three points and two rebounds per game. A late growth spurt, however, which pushed him from 6-foot-1 to 6-foot-7, allowed Pippen to eventually blossom.
"By his sophomore year, he played quite a bit, but he was nothing special; you still didn't think he was going to be an NAIA All-American," East said. "Then he comes back and, as a junior and senior, both years, he's a First Team NAIA All-American, just out of nowhere.
"He just lights it up; he averages 25 (points) and 11 (rebounds) and 24 and 12 his last two years, then goes to a couple of those pre-draft camps and gets MVP at one of them, so he gets seen. And then, on draft night 1987, he goes (No. 5 overall) — a lottery draft pick from a walk-on manager, I mean it's just unreal."
EAST WITNESSED this transformation unfold before his very eyes.
His claim to fame, he said with a laugh, "is I played a few pickup games with him before he figured out he was really good … and then I didn't want anything more to do with him at that point."
And after covering Pippen's final two years as the new UCA reporter for the Democrat-Gazette, he had a message for his co-workers: This guy's going to get drafted; he's that good.
"They said, 'Eh, he's playing NAIA competition, that doesn't equate to the SEC or NBA or whatever.' I said, 'No, I'm not talking about what I see him do in games, I'm talking about what I see him do in practice. I've played ball my whole life and it's stuff I've never seen.' They all said, 'Yeah, okay, sure,"' and it was kind of one of those I-told-you-so moments.."
Even now, East has a tough time reconciling everything Pippen has accomplished since: The six NBA championships, seven all-star selections and a place among the "50 Greatest Players in NBA history."
In 2006-07, Central Arkansas made a trip to the Reilly Center in its first season as a Division I program. By mid-May of this year, it had been put on the map … and by the most unlikely of candidates.
"If you looked at his freshman picture when he first got here — he's actually got a uniform on and everything — he looks like he's 12 years old," East joked. "You look at it and go, 'Okay, this guy, you won't hear from him, he won't be back next year.' He's just one of those, if you're marking off who's going to be around, who's going to be a good player, you'd scratch right through him.
"There's no way you think this guy's going to amount to anything. And then he turns around and does what he does."
MY STAY in Conway was brief. Bona won that day, behind 14 points each from Jonathan Hall and Ray Blackburn, and I was home by the following afternoon.
Pippen's visit to campus, as part of the school's inaugural athletics hall of fame class, three years earlier was emotional.
"Out of the 10 or 11 (people) in that class, I figured he'd be the last to be that way just because of how far he'd gone on," East remembered. "But I'll never forget his line, he said, 'If it wasn't for Central Arkansas, none of you would know who I am,' and you could tell he was being sincere about that."