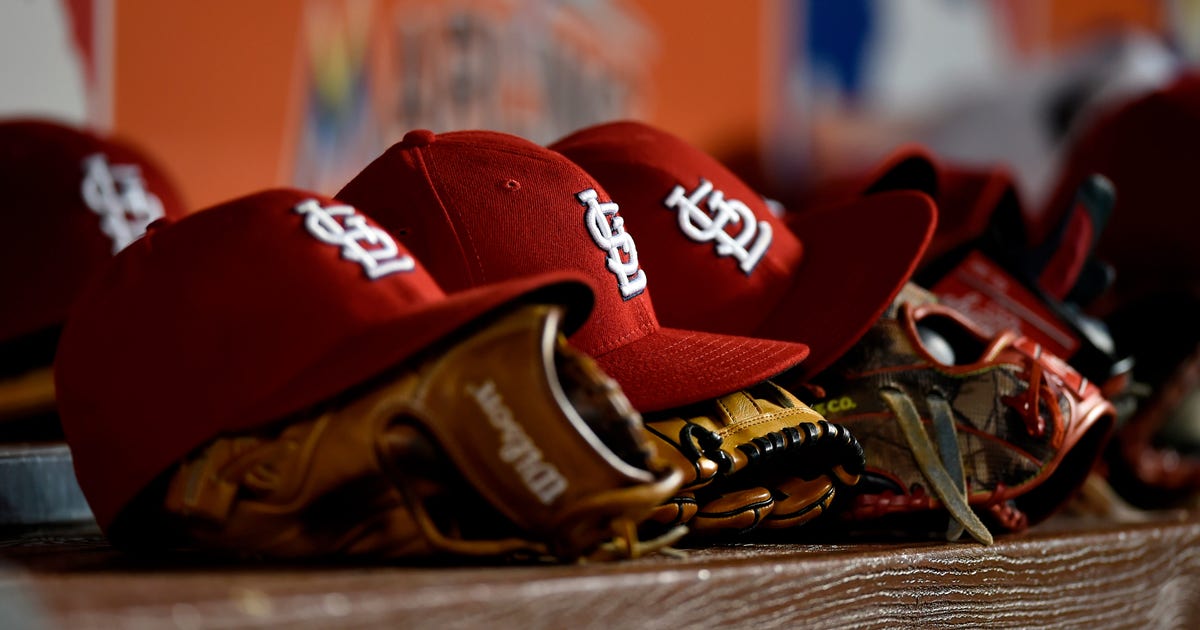 ST. LOUIS — The Cardinals kicked off a busy second day of the 2020 MLB Draft by selecting shortstop/right-handed pitcher Masyn Winn from Kingwood (TX) High School at No. 54 overall, right-hander Tink Hence from Watson Chapel (AR) High School at pick No. 63 and outfielder/first baseman Alec Burleson from East Carolina University at pick No. 70.
Winn, who was ranked as the No. 54 prospect in the draft, is a two-way player who receives praise for his defensive skills at shortstop and his upper-90s fastball. The 5-foot-11, 180-pound prospect is committed to the University of Arkansas.
Hence, a 6-foot-1, 175-pound right-hander, is also committed to Arkansas. He's been lauded by scouts for his mid-90s fastball and plus slider. MLB.com ranked him as the No. 84 prospect in the draft.
Burleson, a 6-foot-2, 212-pound left-handed hitter, was ranked as the No. 136 prospect in the draft according to MLB. He hit .341 with an .883 OPS over two-plus seasons at ECU. He also saw frequent action as a pitcher, posting a 3.46 ERA with 139 strikeouts and 46 walks over 137 2/3 college innings.
In the third round, the Cardinals selected left-handed pitcher Levi Prater from the University of Oklahoma at pick No. 93. The 6-foot, 184-pound southpaw was ranked 198th in MLB Pipeline's prospect rankings. Prater, who posted a 3.42 ERA with 33 strikeouts and 10 walks over 23 2/3 innings this spring, throws a low-90s fastball while mixing in a plus slider and changeup. He's received praise from scouts for his resilience in reaching professional baseball despite losing two fingers on his right hand in a lawnmower accident as a young child.
The Cardinals stayed local in Round 4, selecting right-hander Ian Bedell from the University of Missouri with the No. 122 overall selection. Bedell, who fell to the fourth round despite being ranked 88th on MLB Pipeline's draft prospect rankings, throws a low-90s fastball with a plus curveball and changeup, and he enjoyed significant college success as a sophomore and junior, throwing for a 1.56 ERA with 36 strikeouts and 12 walks over 40 1/3 innings in 2019, then posting a 3.70 ERA with 35 Ks and just four free passes over 24 1/3 innings this spring.
St. Louis' final selection was fifth-rounder LJ Jones IV, an outfielder from California State University at Long Beach. Jones played in just 58 college games over three seasons but was impressive over 14 games during the coronavirus-shortened 2020 season. In 61 plate appearances, Jones hit .327 with an .886 OPS, two homers and two steals. He was not ranked among the top 200 prospects in the draft by MLB Pipeline.
This year's draft was shortened to just five rounds due to the COVID-19 pandemic, but the Cardinals were awarded a competitive-balance pick and also received a compensatory selection following the loss of free agent outfielder Marcell Ozuna, who was given a qualifying offer by the Cardinals but ultimately signed with the Atlanta Braves.